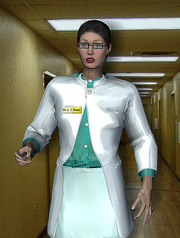 Livia Justina Pruett (b. late 1970's) is the daughter of Abraham Thorn and Desirée Pruett, the younger half-sister of Claudia Quick, and the older half-sister of Lucilla, Drucilla and Valeria White, Maximilian and Julia King, and Alexandra Quick. She is married to a Muggle.
She works as a physician at the Pruett Family Practice in Milwaukee, Wisconsin. Like all of Thorn's children, she is undoubtedly interviewed by agents of the Wizard Justice Department several times a year. Additionall, she is Wandless by choice, having given up magic to live among Muggles.
Livia met her youngest half-sister during the Summer of 2010 when Alex was brought to Milwaukee by Special Inquisitor Diana Grimm after a ghastly Splinching accident. She treated Alex's injuries using magic, and informed her half-sister that she was not the first of Abraham Thorn's daughters, revealing that Alex in fact has six sisters.
She also admitted that she had "known about [Alex] since the day [Quick] born," indicating that she may have been a member of the Thorn Circle who was sworn to secrecy when the infant Alex was made the Circle's Secret Keeper.
Livia later treated Alex in October of 2010 after Quick was nearly killed by a cursed and poisoned piece of parchment mailed to her. In late December of 2010, Alex found one of Livia's business cards in a magical beaded bag belonging to her mother.
She is a descendant of Goody Pruett; in September of 2010, Quick became aware of their mutual surname.
Allusions
Edit
Livia shares her given name with the third wife of the Emperor Augustus, and her surname is a variation on the name of a prominent British wizarding family.
Introduction
Edit
A woman in her early thirties, wearing a white coat over a light green blouse, entered the room. ... She had straight black hair pulled back in a bun. Her face was thin and angular; behind square, black-framed glasses, her eyes were the same shade of green as Alexandra's, and the shape of her nose was familiar.
Appearances
Edit
Community content is available under
CC-BY-SA
unless otherwise noted.